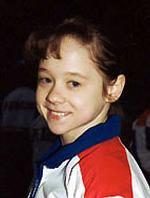 Gymnast from Russia, born June 10th, 1983 in Fergana, Uzbekistan. Competed for the Russian National Team first starting as a junior in 1997 and then as a senior in 1999. Double medalist at the Olympic Games in 2000, winning a silver and bronze medal. In 2001 while competing on vault at the Russian National Championships, she tore three ligaments in her right knee requiring extensive surgery to repair. Attempted a comeback in 2002/2003 but failed to make the team. She retired in 2003.
She lives now in Coquitlam, British Columbia where she is raising her son Alexei, born in spring 2007. Her long-time coach, Ludmila Lobaznyuk (who is also her mother) coaches at Omega Gymnastics in Coquitlam. 'Kat' also coaches at Omega Gymnastics at the provincial/pre novice level.
Community content is available under
CC-BY-SA
unless otherwise noted.