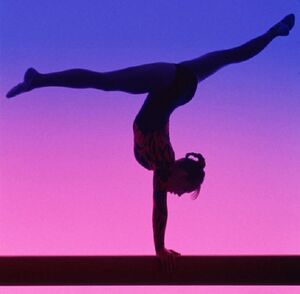 Well, it looks like I've adopted another wiki. I am now an administrator, so if you need help, you can ask me.
Not a gymnast. A fan.
My favorite pages
Edit
This is the kind of thing I hope to see other people write:
Types of gymnastics that need pages:
Men's
Rhythmic
Trampoline and tumbling
Acrobatic
Aerobic - I know nothing about this.
Skill-related pages I intend to write sometime in the next year:
All vaults with round-off entry
Uneven bars mounts
UB dismounts
UB bar changes
Circles at least on uneven bars if not on high bar or even parallel bars and rings if they're similar.
Release moves on uneven and high bar
Front tumbling - women's floor, men's floor, trampoline, tumbling (it's in the code of points!) and beam
Back tumbling - same; back handspring will lose its page
Turns - floor, beam, rhythmic
Jumps and leaps - floor, beam, rhythmic
Beam mounts
Beam dismounts
Beam-specific moves
Rolls and walkovers - floor, beam
Flexibility skills in rhythmic
Balance skills in rhythmic
Jargon we should do pages on:
Flight
Acro
Full, full-in, full-out
Optional/Voluntary and Compulsory
Other:
Code of Points
Developmental programs in various countries
Community content is available under
CC-BY-SA
unless otherwise noted.